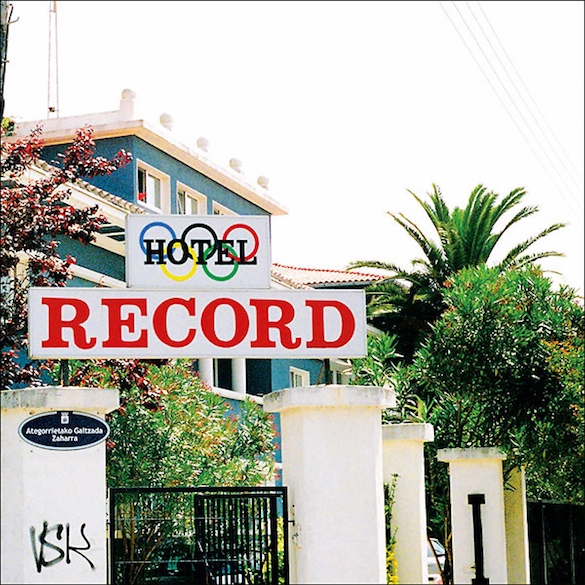 Black Truffle BT029
Hotel Record is the second release from the duo/couple of crys cole and Oren Ambarchi, following on from Sonja Henies vei 31 (PLANAM 031LP, 2014). Where their debut recording presented a disquieting portrait of the erotic dimension of romantic intimacy, the follow-up continues to explore the pair's simultaneously musical and romantic relationship in a more subtle fashion, presenting four long-form pieces that touch on the variety of forms the life of this couple takes: as a musical duo, as a pair of travelers to exotic locations, as opponents in a game of cards… Each of the double LP's four sides presents a distinct sound-world, yet each manages to attain the same suspended, half-sleeping feeling, outlining a space where improbable combinations of the electronic and the acoustic, of extreme closeness and amorphous distance, occurring with the gentle insistence of a dream.
The opening "Call Myself" calmly unfolds a fabric of long tones from electronic organ and guitar, combining the sliding, aleatoric effects of classic David Behrman with a more hands-on feel. Over the top of this slowly shifting tonal bed, cole's voice mutters unintelligibly into a Buchla synth, teasing the listener by suggesting a meaning that remains always out of the ear's reach. "Francis Debacle (Uno)" builds on the foundations of a heavily amplified session of the titular card game, overlaying vocal murmurs and exhalations and mysterious room-sounds to create an impossible aural environment. On "Burrata", a palette of vintage 1980s digital synthesizer sounds combined with guitars create an irregular texture of lush chords and bubbling melodic details, into which cole's voice processed by a vocoder, is interwoven, reading fragments of romantic correspondence. Finally, on "Pad Phet Gob", field recordings made in Thailand become an ambiguously acoustic/electronic rainforest, eventually giving way to a mysterious, wavering electronic tone-field punctuated by sibilant, popping mouth-sounds.
Carving out an intimate and human sonic space across a diverse array of compositional approaches, sound sources, fidelities, and textures, Hotel Record is the latest dispatch from the continuing explorations of a unique duo. Ambarchi and cole reimagine electro-acoustic music, not simply as "abstract" sound, but as a diary, a love poem, a dream.
Comes in deluxe gatefold sleeve with photography by crys cole and LP design via Stephen O'Malley; Mastered and cut by Rashad Becker at Dubplates & Mastering.
from SoundOhm, Italy:
For many, the geography defying partnership of crys cole and Oren Ambarchi is the likely source of envy and awe – a creatively rigorous adventure in sound, egged forward by the romance they share. Ambarchi needs little introduction. Over the last 20 years, he has risen as a leading light of experimental and electroacoustic practice, as recognised for his collaborations with Jim O'Rourke, Keiji Haino, Sunn O))), Keith Rowe, Fire!, John Tilburyand countless others, as he is for his solo work. Cole, an artist focused on the constrained limits of sonic possibility, bridging gallery and musical contexts, has increasingly caught the attention of the international experimental music community over the last decade, running a parallel course in her dedication to collaborative and solo work. Following Sonja Henies vei 31, their debut from 2014, an album as much as an abstract diary centred around the "erotic dimension of romantic intimacy", the duo is back with the stunning LP Hotel Record, continuing the exploration of their musical and romantic relationship, marked by the subtlety of investigation which has defined both of their careers.
Experimental musics tend to be consciously resistant to explicit narrative or location. When attempted, it is rarely done well, or retains the openness which make these territories so striking. These elements might be understood as experimental sound's the most challenging and under-explored trajectories. They are the conceptual architectures of Hotel Record, and the root of its overwhelming success. Each of its four sides offers a distinct sound-world – subjective renderings of time, space, and geography through the lens of interplay, creative and romantic – locations in the hazy, amorphous expanse of the album's whole. A world of introspection and cohesive diversity, modeled by the experiences of two constant travelers, forced to see themselves, each other, and their relationship, evolving against a shifting landscape.
Built from improbable combinations of the electronic and acoustic – sonic demarcations of time, place, and emotion, Hotel Record transcends any reductive idea of music. Through synthesis, electronics, field recording, acoustic instrumentation and voice, it is an installment in the duo's aural diary. A sonic rendering of the transmogrification of self, falling within the undefinable realm between sound-art and and the outer boundaries of how musicality is understood. A rippling, profoundly intimate construction of texture and tone, so beautiful, surprising, and filled with humanity, that it overwhelms the ear. Out via Black Truffle, through Hotel Record , cole and Ambarchi show us what great art is all about – an opening of self, rigor of ideas, and adventure which never ends. An album which will send you excitedly flipping through its four sides for years to come. Not to be missed by any count.