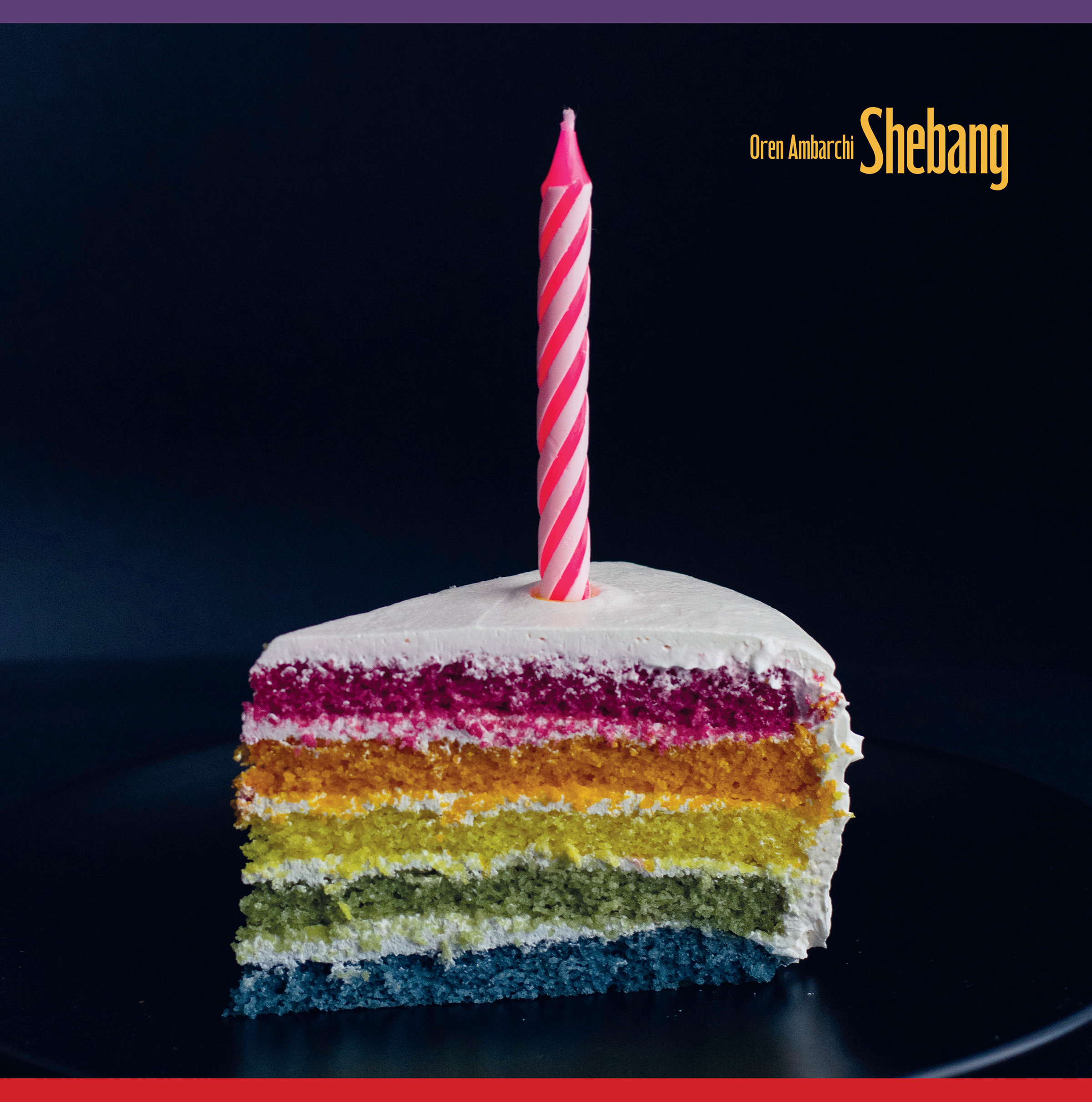 Tracks:
Shebang I
Shebang II
Shebang III
Shebang IV
Credits:
Oren Ambarchi – guitars & whatnot
with:
Chris Abrahams – piano on III & IV
Johan Berthling – acoustic bass on III
BJ Cole – pedal steel on II & IV
Sam Dunscombe – bass clarinet on I & II
Jim O'Rourke – synths on III & IV
Julia Reidy – 12-string guitar on III & IV
Joe Talia – drums on the whole Shebang
Recorded at Choose Studios, Berlin by Joerg Hiller
Additional recording at Challis Studio, Sydney by Chris Abrahams, 'The Batcave', Stately Wayne Manor studios, London by BJ Cole, Summa, Stockholm by Johan Berthling, The Crystal Ball, Berlin by Sam Dunscombe, Steamroom Japan by Jim O'Rourke and Good Mixture, Berlin by Joe Talia
Edited by Joerg Hiller and Oren Ambarchi at Choose Studios, Berlin
Mixed by Joe Talia and Oren Ambarchi at Good Mixture, Berlin
Mastered by Joe Talia at Good Mixture
Executive Producers: Konrad Sprenger & Dick Wolf
Extended guitar hero Oren Ambarchi returns with Shebang, the latest in the series of intricately detailed long-form rhythmic workouts that includes Quixotism (2014) and Hubris (2016). Like those records, Shebang features an international all-star cast of musical luminaries, their contributions recorded individually in locations from Sweden to Japan yet threaded together so convincingly (by Ambarchi in collaboration with Konrad Sprenger) that it's hard to believe they weren't breathing the same studio air. Expanding on the techniques used on Simian Angel (2019), we can never be entirely sure who is responsible for what we hear, as Ambarchi's guitar is used to trigger everything from bass lines to driving piano riffs.
Picking up from the staccato guitar patterns that ran through Hubris, Shebang's single 35-minute track begins with a precisely interwoven lattice of chiming guitar figures, expanding Hubris' monolithic pulse into a joyous, hyper-rhythmic melodicism that calls up points of reference as disparate as Albert Marcoeur, early Pat Metheny Group, and Henry Kaiser's It's A Wonderful Life. Building from isolated single notes into densely layered polyrhythms, the muted guitar tones are joined by subtle touches of shimmering Leslie cabinet tones and guitar synth. Simmering down and funnelling into a single note, the guitar stew is soon thickened by Joe Talia's propulsive ride cymbal, which blossoms into a beautifully flowing yet rigorously snapped-to fusion funk, whose ever-shifting details skitter across the kit – think 70s heavyweights like Jack DeJohnette or Jon Christensen. An unexpected entry of guttural bass clarinet licks from Sam Dunscombe begins the series of instrumental features that pepper the remainder of the piece. Soon we hear from the legendary British pedal steel player B.J. Cole (hopefully known to some listeners from his outer-limits singer-songwriter masterpiece The New Hovering Dog or, failing that, 'Tiny Dancer'), whose languorous yet uneasy lines float in and out of a shifting rhythmic foundation supported by a single note bass groove, cut through with aleatoric synth articulations
Though single-mindedly occupying its rhythmic space throughout, Shebang's dense ensemble sound is carefully composed while drawing on the free flow of improvisation, with individual voices momentarily coming to the fore and subtle changes in harmony and texture. Perhaps the most surprising of these shifts occurs around half-way through when the smoke of a buzzing synth crescendo from Jim O'Rourke clears to reveal something like a piano trio, with Ambarchi's guitar-triggered piano patterns providing restless accompaniment to flowing melodic lines from Chris Abrahams of The Necks, while Johan Berthling's double bass and Talia's drums fill out the bottom end. Before long, things take another left turn as Julia Reidy's rapidly picked 12-string guitar lines take centre stage, with O'Rourke's monumental synth clouds hovering in the distance. The ensemble surges through a slow series of harmonic changes before the whole shebang dissolves into a delirious synthetic mirage.
Bridging minimalism, contemporary electronics, and classic ECM stylings, and bringing together a cast of preternaturally talented contributors, Shebang is unmistakably the work of Oren Ambarchi: obsessively detailed, relentlessly rhythmic, unabashedly celebratory.